Protect your family and your property with Crimsafe Regular, which uses Screw-clamp™ Technology, so it can't be kicked out
Crimsafe mesh is sandwiched between two serrated pieces of aluminium that clamp the mesh tight. One is an aluminium strip with a hook and the other is the frame that the strip hooks into. But then, all three are screwed together with stainless steel tamper-resistant screws and the different components are separated by a Santoprene (rubber) bead to reduce electrolysis that could lead to corrosion.
This combination mechanically fastens the mesh to the frame and creates a barrier that can't be kicked in – the screw-clamped mesh that beats more burglars.
This system is internationally patented and unique. Only Crimsafe features screws driven through both the clamp and the mesh and right into the frame on the other side, to provide incredible strength.
"Beat more burglars with the only security mesh that uses Screw-Clamp™" technology." 
Crimsafe Regular comes with the assurance and peace-of-mind of a 12-year extended warranty.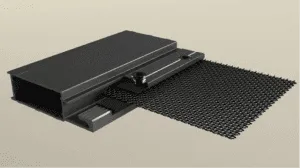 Why choose Crimsafe classic?
Hinged Doors
Sliding Doors
Stacking Doors
French Doors
Bi-Fold Doors
Fixed Windows
Hinged Windows
Fixed Windows
Sliding Windows